GROUP SESSIONS AND WORKSHOPS
Do you have familiar problems recurring?
Does chaos reign in any area of your life?
Do you want to bring in more joy, love, power, abundance, and health to your life?
Chaos happens to us all at times. If I am in a place where chaos rules my life, whether it be in relationships, career, or health, I look to see where I am not truly aligned with myself or with my purpose.
During the years, my search for guidance towards alignment and inner peace drove me to over 25 years of study under wise spiritual teachers and Shamans worldwide.
I learned how life could be more powerful through becoming aligned with ourselves and with the true nature of love. We can fulfill our potential by acquiring tools that allow us to go beyond our limitations, release the past, and truly experience living in the moment.
To attain this requires focus and commitment.
Life is not a flat pond, it is an ocean with waves, and in that ocean we swim and learn to use our muscles, which strengthens us over time. That opportunity does not exist in a pond. So when I see myself in the ocean of life, surfing with my spiritual surf board, and on occasion I fall off, it is those spiritual tools that I have acquired which help me get back on again today. They give me the opportunity to walk the path that gives me the most joy in work and play, allowing me to heal myself of physical and emotional challenges, to release stress, and to be in a place of freedom to choose how I live my life.
Learning to use my higher will, I release past patterns of emotions like fear, anger, and other thought patterns attached to slow old energy waves. Then I can move on and be free to live a vibrant, healthy, fulfilling life in the moment.
I am devoted to raising levels of consciousness and passing on the tools which I have acquired, allowing you to clear the blockages in your life and to function at your highest level of potential.
Workshops and group sessions provide a safe space to share this work and receive healing energy, so that you may learn how to grow and blossom in all areas of your life.
You are given new 'tools', which provide a path for you to fulfill your potential. Participants receive healing energy to facilitate personal development and spiritual healing.
During sessions, you will receive counselling and guidance to forward your development. Levels of awareness are raised as you are taken in and up through meditation and visualization. You will be given new levels of understanding to empower your life and allow you to move forward. This new understanding will provide you with tools for your everyday life, bringing inner peace, freedom from your struggles, and a way to live with joy in your heart.
---
"WHAT'S ON YOUR PLATE"- Food, Weight, & Self-Image?
Empower yourself & Transform your life in this 12 weeks course

You receive:-
A path to overcome eating and self-image issues.
Methods to raise your consciousness and support you in your process
Tools to let go of the past, and focus on the present
Techniques of breathing and relaxation to ease the journey
Clear guidance to move on from where you are stuck
Visualizations to help sever you from slow frequency old behavior patterns
Media and literature to enjoy as aids to learning
Nurturing for your inner child as you process your way to adult choices
END THE STRUGGLE & SHAME WHICH ACCOMPANY YOUR 'WEIGHTY' ISSUES
Food for many is a way to anesthetize life and handle emotions and situations when they became too intolerable to cope with.
Do you want to loose weight?
Are you at your correct weight and still struggling with the issue?
Really it's all about one question:
Do you want to live a vibrant life, and be in your power?

End the struggle and be your beautiful authentic self.
Find the keys to self-empowerment and gain inner peace and acceptance in your life.
Stop struggling with your body weight and feel amazing instead!
Email: opendoorways@gmail.com
Tel : 0547614642
---
MEN'S GROUP

Empower and transform you life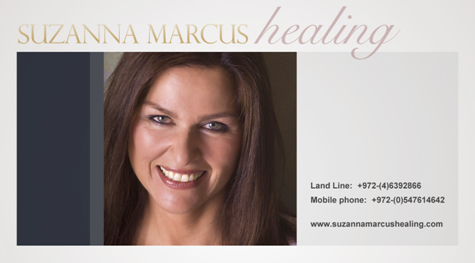 Acquire spiritual tools to support your personal development
Learn techniques of breathing and relaxation
Experience visualizations to move you into a new perspective.
Learn to sever yourself from old behavior patterns
Experience Personal Development in all areas of your life
Enjoy media and literature as aids to learning
Receive guidance from Suzanna in each session
Allow your relationships to blossom
Venues: Tel Aviv and Zichron Yaacov.
For more information and registration
email: opendoorways@gmail.com.
Call 0547614642
---
WORKSHOP THEMES

THE ART OF NEW BEGINNINGS.
Connect to your inner power
Release blockages formed by old patterns of energy that hold you back.
Leave behind limitations in work and play
Communicate authentically
Create freely.
Live with emotional freedom
Empowerment to heal in all areas
Develop and blossom within your relationships
Release stress.
Let go of limited thinking.
Grow through your challenges.
---
DIVORCE AND REBIRTH WORKSHOP

Are you recently separated?
Alone with these issues?
Are you experiencing shock, rejection or anger?
Are familiar problems recurring?
At whatever stage you are…

The Divorce and Rebirth Workshop will connect you to your own inner power. It will help you grow through your issues, to release the victim mode and reconnect with that powerful side of yourself and fulfill your potential.

Learn how to transform your negative experiences, to connect to your own inner power, and to reach a place of freedom and joy in your life.

Attending the workshop will:
Give you tools to release stress
Guide you to restore your self-esteem
Help you to move on from victim mode to self-empowering mode
Create shifts in your life and help you grow through your challenges.
Help you fulfill your potential in life
---
CANCER - THE WILL TO LIVE

In 1970, President Nixon declared war on cancer. My attitude to cancer is that it is not about making war, it is about making peace with oneself.
Today, cancer and other immune deficiency diseases are still widespread. Modern medicine has indeed accomplished great strides towards healing, but society is far from having made peace with these chronic illnesses. How many people do you know who, when receiving a cancer diagnosis, cannot even utter the word cancer, or cannot ask their loved ones for support?
Over 12 years ago I faced the diagnosis of stage III metastasized breast cancer, and healed myself.
Today in workshops, my intention is to empower you and share tools for healing and personal growth.
When cancer enters your space, it is not only you but all those around you who are affected by your situation. In the workshop, you and your loved ones are offered a holistic path beyond the struggle, encouraging physical, emotional and spiritual wellbeing. Cancer is a slow old energy pattern that needs to be cleared away, and in workshops you will learn how to release those energy patterns to make way for your health and wellbeing.
---
*Topics may include:
Leadership Stress management and relaxation
Well Being
The power of silence
Relationships
Divorce
Your vibrant life
Health
Life transitions
Meditation and Guided Imagery
The Transformational Journey
Cancer and other life challenges
The Body Image
Menopause in your 30's, yes it can happen!
Men's group
During the course of over 20 years it has been my privileged to guide individuals, groups, partners, and management teams through their amazing transformational journeys, serving development and growth in both corporate and personal worlds.
At whatever level of management, you still finally go home to yourself, and 
If you are stressed out, not satisfied in the office or personal life, your health or well-being, this will show up in your work, effecting your performance, and vice versa with your loved ones at home.
"You cannot solve a problem from the same consciousness that created it. You must learn to see the world anew." - Albert Einstein
For more information and registration
Email: opendoorways@gmail.com.
Call 0547614642